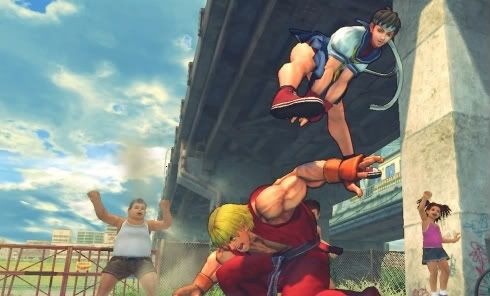 I love silly fighting game characters. Facing off against the stoic badasses that head each fighting game. Throwing out their ridiculous winning animations after their equally ridiculous wins against more "epic" characters. Reminding us to never take these games too seriously.
That's part of the reason I knew Sakura was my main when I first played her. The other part? Instant gratification. When her dragon punch lands it has at least double the hits as a normal Ken/Ryu punch. Sure the damage is probably the same, but the clack-clack-clack-clack after catching a player off guard and punishing them just feels so good. Her offensive based specials also reminded me of playing Guilty Gear more than other character.
As you can probably tell, I'm feeling pretty good about this game right now. It's almost a polar opposite to my flagging attempts at playing last night. The day before going online for the first time showed me just how nubish me and my local fighting game clique are. Players saw through my over reliance of special moves and tore me apart. My tactics didn't work and I had nothing to replace them.
Then my friend came over and tore down anything that was left. His Balrog's punches a bulldozer clearing the rubble. I found myself barely able to do damage to him. But I'm not one to resign after defeat. As cliched as it is, what does not kill you makes you stronger. With the cleared land, I could now build a solid foundation.
My friend taught me to pay more attention to basic attacks. Landing a sweep on an attacking player is safer and easier than trying to counter the attacks with a special move. With my back to basics style I went online today and picked apart my foes. Only unleashing my former link combo flashiness when the opportunity arose. Sure they were newbies. All bearing exploitable holes in their offense and defense. But it feels good not to lose to them.