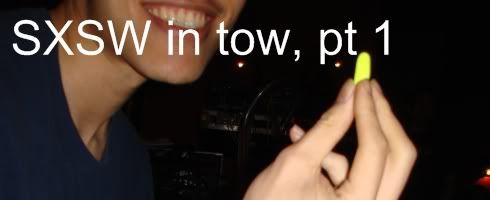 (
Photos by Rama
)
Looking at the Austin Chronicle's SXSW insert, one can be easily intimidated by the music schedule. Like the classifieds of a desperate musical hell, thousands of bands in 9pt font reach at you to lift them from this dank obscurity.
I came to Austin in the hopes that some new music would find me. As I scanned the pages before me like some black and white
Where's Waldo
, I realized I would have to find the music myself... or at least stumble upon some. I was not disappointed.
Wednesday kicked off SXSW's 5 day musical... orgy. That night Rama and I were dropped off downtown and we made our way to a venue called Back Alley Social. Rama wanted to see Blue Scholars, a hip hop group. He'd heard of them before. In SXSW, if you don't have an expensive, all access badge, you don't come to see bands you've heard of. Any sliver of popularity will attract crowds the small bar venues are ill prepared to contain. The resulting line for 'Scholars quickly discouraged Rama. Off to Plan B.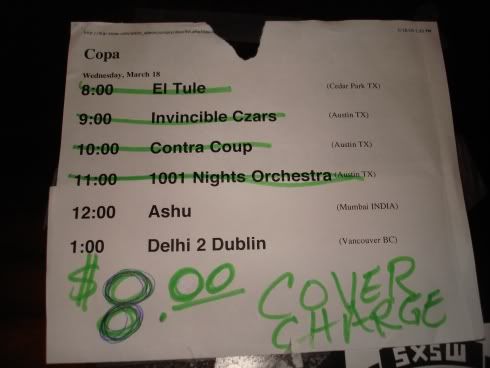 Rama led me to a bar called Copa. The theme Wednesday was international music. Apparently he was interested in a few of the bands. Luckily for us, none with the notoriety to pack the venue. We found a seats in the venue's plentiful space and dug in for the night.
1001 Nights Orchestra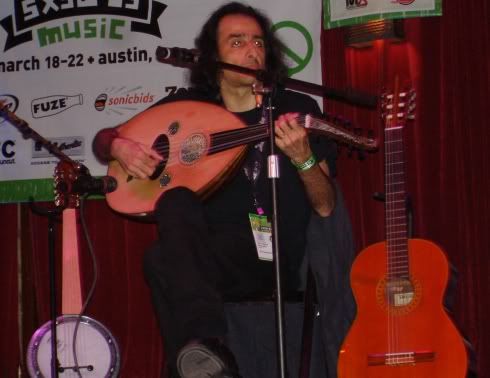 The band certainly lived up to the international theme. A variety of exotic instruments produced Middle Eastern and Eastern European folk music.
Ashu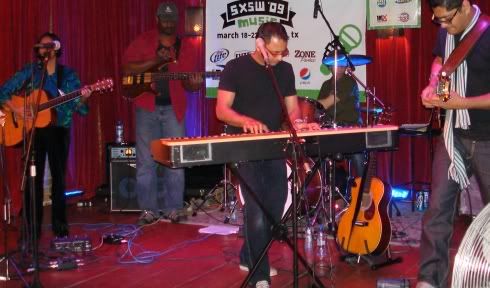 Now this one's interesting. Ashu is a Bombay band named after it's creator, the guy in the middle with the red glasses. Apparently a music video is gathering them a bit of popularity in the Indian community. The venue was filling out at this point in the night. Rama glanced around the room and decried all the Indian faces, as if embarrassed to be at a family reunion.
The band itself had a surprisingly western rock feel.
Ashu ended their performance at 1am. I don't know if there's a correlation between dance music and the wee hours of the night. But when this next band's drummer incited dancing with his Indian drums during the sound check, it was obvious where this performance was going.

Delhi 2 Dublin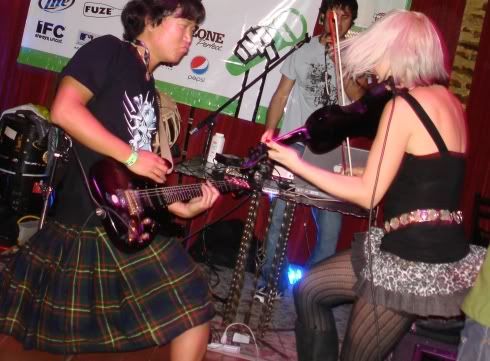 What do you get when you mix dance beats, a Korean sitarist in a kilt, a pink haired fiddler, a dhol drummer, and a lead singer flowing in Hindi? A damn good show, apparently. Delhi 2 Dublin brought the house down in spite of the venue's shoddy sound equipment. Energetic beats that get your head bobbing combined with folksy Celtic and Indian instruments. They were just the kind of innovative music I was hoping to find.